In my house there are 4 "sets" of albums (not including the occasional themed ones): the family albums, and one for each child. It took me a while, but I now have a bit of a system when it comes to working out how many photos to have printed out. When a child has a birthday party, for example, I print out a full set of photos for their album, and a couple for the family album. For a family holiday, I print out a full set for the family album, and a couple of photos highlighting the holiday from the perspective of each individual child. and so forth. So, there are many events which have 4 sets of photos printed out. Lucky I don't expect to ever "catch up" on scrapbooking every single photo in my life, because who feels like scrapbooking the same event four times?
But when I was catching up on the blogs I follow after getting home from camping, I came across Shimelle's scrapbooking event, with 16 challenges to choose from! I decided to try, just once, to scrap the same photos three times in a row!
Not long ago I did the page for the family album, here:
(Still not sure about those pinwheels, but that's beside the point)
First up is Rohan's page. I used
Challenge 10: use two photos on a bold background.
The inspiration piece is this one by Jill Sprott: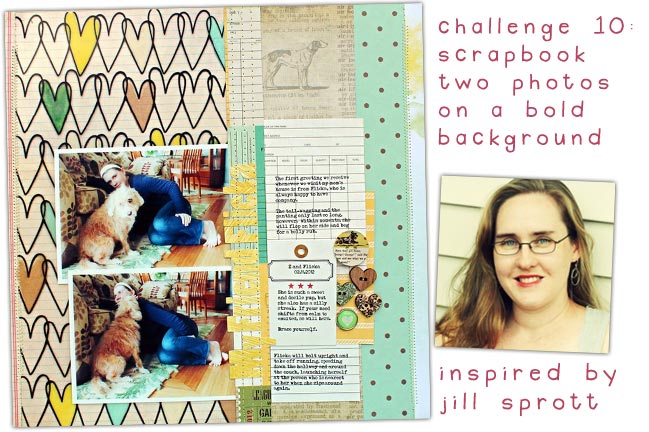 Shimelle tells the story that she originally thought the heart had been stamped multiple times, then select ones coloured in, only to find out that it was actually a transparency.
Not having either a transparency or any other bold background that worked with my photos, I went with the stamping/colouring idea, using paint on some old Making Memories (I think) foam paisley stamps, and then colouring a few with prismacolors.
See you soon with another version!